Reinhard´s am Kurfürstendamm
Around the world in 80 minutes.

Sur la Ku´damm!
Sur le boulevard, en terasse, au restaurant.
At Reinhard's, one can meet "tout le monde", as they say in Paris.
Enjoy a morning Bonne Paire déjeuner on the terrace with a café au lait and fresh butter croissant.
Or perhaps a little hors-d'œuvre in an intimate atmosphere for your midday business lunch?

The Library
Meet me in the library
Maybe a game of billiards or read a few pages from one of the books before 'five o'clock tea' in the Reinhard's Library, which is the name of our first floor, and is reserved exclusively for you and private events. There is space here for up to 90 guests, or 140 guests if using outdoor seating.
In true British style, you can enjoy the privacy and discretion of a box from the surrounding terrace, perhaps with a cocktail or café and the répertoire from our pâtisserie. This area provides an excellent view over the hustle and bustle of the Kurfürstendamm.

Café Bar27
Or in italian way: "Café-Bar Ventisette"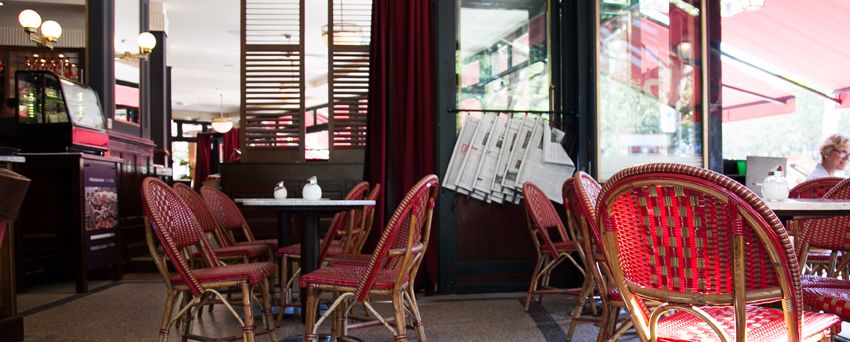 Have an early morning café, short and black with lots of sugar, and perhaps a piece of sweet pastry. Enjoy an Aperitivo Milanese in the evening, with a spritz and a small handful of hearty snacks - hustle and bustle prevails here. Always with a pinch of 'Bellezza' and cool elegance.

Hamptons Country Kitchen
The Bottschaft and Hamptons Country Kitchen

The kitchen is the favourite spot of every party. The country kitchen ambience creates a relaxed atmosphere.

The Bottschaft
Comfort á la Jochen Bott
Whether as a tribute to Jochen Bott, the restaurateur of the former West Berlin scene, whose wild 'message' is apparent here, or how our kitchen staff sometimes casually call our 40 square metres of space their holiday destination - this is a place where you can enjoy your short break in peace.
With an excellent beer or a nicely cooled glass of pinot gris, you can sink into comfortable cushions whilst enjoying a caesar salad or simply good Berlin cuisine. Very casual and open.